The UK is currently experiencing an intense heat period, and all her residents are trying to keep the heat away. Central air conditioners have been the go-to solution for many residents in the UK. However, portable air conditioners or mobile air conditioners are gradually proving to be equally effective. Their portability offers convenience and flexibility, which has made them a consumer favourite. Also, they occupy less floor space, have less weight, and are quieter than large air conditioners.
These portable air conditioning units are quite pricey. Selecting one of the most excellent models will cost you a few hundred pounds. However, they are worth every penny, and you would have no regrets over purchasing them.
They are rated in British Thermal Units (BTU). The higher the BTU number, the more cooling provided. However, this also implies that the air conditioning unit is larger and more expensive. In some instances, it may also be less environmentally-friendly.
Another factor to put into consideration is noise. Most mobile air coolers range from 50 to 56 decibels (Fifty-six decibels is equivalent to the background noise in a restaurant). We have considered these factors and examined different ACs' prices, efficiency, durability, and portability.
Here is a list of our top 5 mobile air conditioners:
1. Honeywell MN12CES Portable Air Conditioner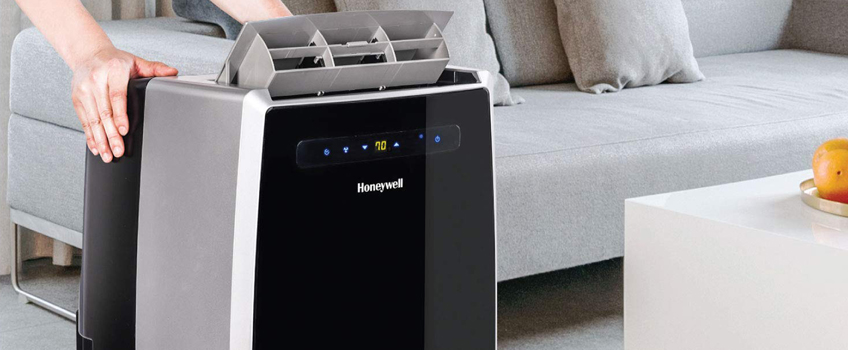 It has the highest BTU number on this list at 12,000. Thus, it can be utilised to cool a vast space like a conservatory. However, the downside to this model is that it is a bit noisy at 53 decibels.
This air conditioner also serves as a dehumidifier and fan. It comes with remote control and a programmable timer. It is quite practical as it has a set of wheels attached to it. Its energy efficiency is rated A, and it goes for £645.95 on Amazon. You can buy it here.
2. EcoAir GEO Wi-Fi Portable Air Conditioning Unit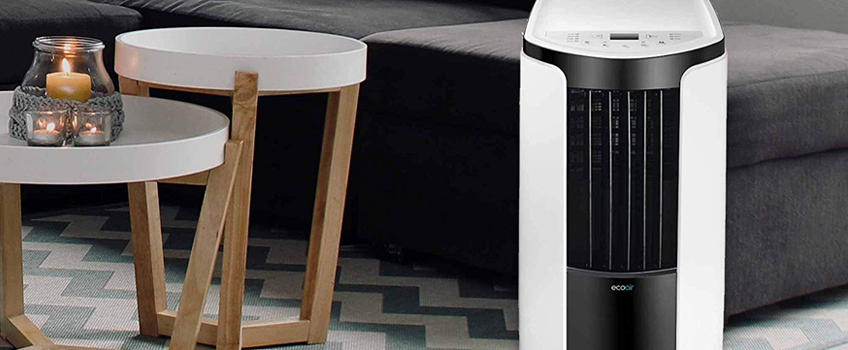 EcoAir produces some of the most recommended air coolers in the UK. One of their top models is the EcoAir Crystal, although it is currently unavailable in the market. However, the EcoAir ARTICA MK2 is an excellent substitute due to its price and functionality. It comes with a dehumidifier, remote-controlled fan, programmable timer, and is Wi-Fi enabled.
Its BTU number is 8,000, and its energy efficiency is rated A. It is not as noisy as the other models, as it ranges between 47 to 51 decibels. It goes for £338.95 on Amazon. You can buy it here.
3. De'Longhi PAC AN98 ECO Real Feel Portable Air Conditioner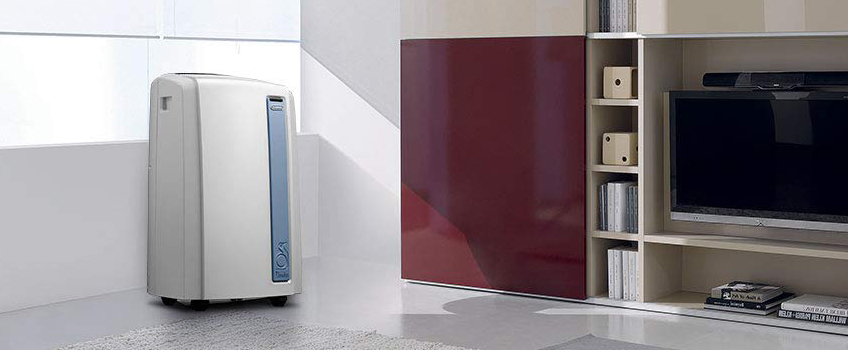 The AN98 has a BTU number of 10,700 and can cool up to 21.5 square metres. Its most significant feature is its dehumidifier. Also, this device is not particularly noisy as it ranges between 47 to 50 decibels. It utilises an environmentally-friendly gas, R290. It is not the cheapest model out there, but its durability and multi-functionality make up for the price. Its energy efficiency is rated A, and it goes for £626 on Amazon. You can buy it here.
4. MeacoCool 10000 BTU Air Conditioner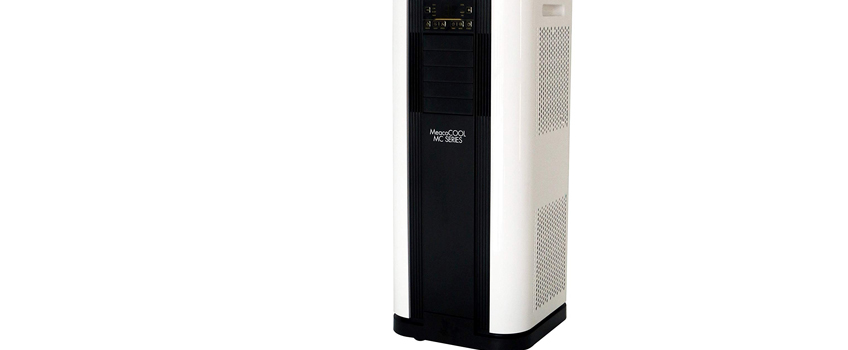 It is one of the most affordable mobile air coolers available in the UK. It comes with a dehumidifier, cooler, and a heater which would prove to be quite useful in winter. It also has a programmable timer, sleep mode, and is remote-controlled.
However, its energy-efficiency is rated a B and is the loudest air conditioner (at 56 decibels) on this list. Some online reviewers have complained that putting the exhaust hose out of the window could be arduous. Thus, it could be said to work best on patio doors or sliding windows.
It goes for £358.95 on Amazon. You can buy it here.
5. De'Longhi PAC AN112 Pinguino Air-to-Air Silent Air Conditioner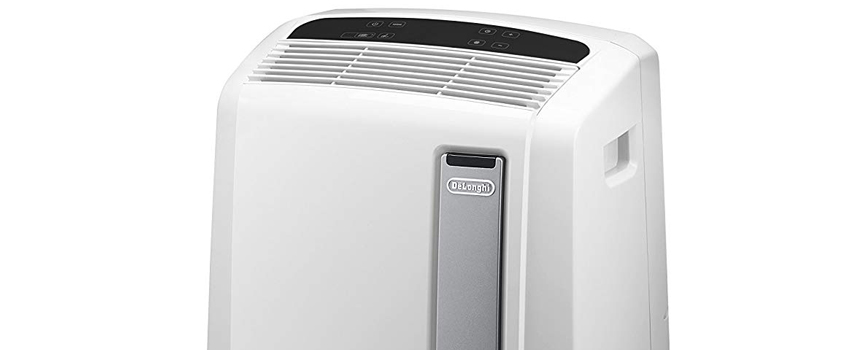 As you can see, we have saved the best for last. This brand of air conditioners has an aesthetic style and an incredible compressor. Its most impressive feature is that it is one of the quietest air conditioning units. It ranges between 47 to 50 decibels, signifying that it is not entirely silent. The PAC AN112 has a three-speed remote-controlled fan and a sleep mode that allows you to reduce its noise.
It has a BTU number of 11,000 and can cool a room with 42 square metres. Its energy efficiency is rated A, and it utilises eco-friendly, EU-licensed R290 gas. Although it is one of the most expensive models available in the market, it is worth its price. On Amazon, it goes for £939. You can buy it here.
Finally, it is essential to note that this list is not exhaustive. You can find more portable air conditioners on Amazon or Argos.