Godzilla, Manticore, King Kong, and Basilisk, to name a few, are all infamous fictional monsters. It's alright if neither of these strums the chords of terror upon your soul. They are fictional after all. We don't intend to scare the daylights out of you, but since we're on the topic, let's get more realistic. There's a monster we all know. There's a monster that uninvitedly visits day, and night, at particular periods of the year. She's so terrible; she devours our clothing, and sears at our skins. Her name is Heat, and you should be scared already!
Okay, we admit that it is not usually as bad as we have made it sound. It's often not this bad WHEN you are armed with good portable air conditioners.
What Are Portable Air Conditioners?
Would it be unnecessary if we pointed out the obvious? Portable air conditioners, abbreviated as PAC, are air conditioners that are portable! Think of them as self-contained cooling systems capable of cooling single rooms. Unlike the conventional, older window ACs, they sit on the floor and usually have wheels for mobility. With an installation kit, they are known for seamless and quick setup.
While remaining mobile and relatively handy, most portable air conditioners are exhaust pipe conditioners. These conditioners create hot gases as they cool the room. The heated air exits the room from an exhaust passed through the window to the outside. Window kits are included in the installation kits, and they have window sliders and exhaust hoses.
Others you are likely to stumble upon in your search are evaporative air coolers and multi split air conditioners. It is essential to realise that none of these is a typical portable ac unit.
Evaporative air coolers function by cooling through the evaporation of water. This is significant because water will absorb a large amount of heat to evaporate. This system usually requires less energy than the typical air conditioning system. It is, however, not as efficient. Some have even called them "glorified fans."
Split air conditioners are a figure of the conditioners that we know. They represent a more permanent installation and are generally more referred to as window ACs. If they are anything, we know they are not mobile.
The power of air conditioner unit is measured in British Thermal Units (BTU). The larger this value, the larger the room the air conditioner can effectively serve. While a room has no universally accepted standard size, typical rooms range from 9ft by 9ft to 17ft by 17ft. For bedrooms this size, use portable air conditioners rated at least 10,000 BTU. Use larger ones for dining halls and generally larger spaces.
While the British Thermal Units are fundamental, you should consider the following when purchasing a unit:
Decibel Rating: Worst case scenario – if you sleep and snore, your conditioning unit shouldn't! You need to factor the noise it'll make before buying. Most portable air conditioning units range from 50-56 decibels (the measurement for noise and sound). Fifty-six decibels is equivalent to the background chatter in a restaurant. In essence, a good air conditioner shouldn't make too much noticeable noise.
Cost: There's no wrong price to buy any electrical appliance. It should, of course, come at no surprise that gadgets like this might be a tad on the high side. Nonetheless, you should always cut your coat according to your cloth. You should expect, of course, that the more expensive machines be more efficient and effective than the cheaper ones. Higher prices ultimately denote higher value. Standard costs for PACs range from £300 – £700.
Having given a relatively detailed introduction to portable air conditioners, we believe you must have gotten the hang of it by now. However, ladies and gentlemen, knowledge is progressive, and we wish to educate you into making the most informed decision when ready to choose a conditioning unit. To this end, we have researched for you, and have handpicked what we believe to be the best portable air conditioning units in 2019! Strap your seat belts people, and enjoy the ride. Note that we won't be listing these products in any particular order.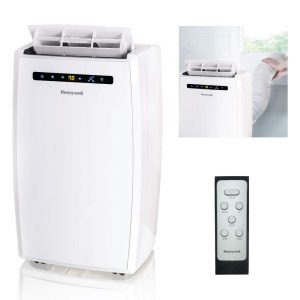 1. Honeywell MN10CESWW MN Series 10,000 BTU Portable Air Conditioner
If your name is Honeywell, it's only expected that you ooze out nothing but frosty sweetness – cliché much? More seriously though, these units are amazing! With 10,000 BTU, they can cool a room that is as wide as 350sq. Ft.
With a farewell to pesky buttons, their systems allow soft-touch operation – simply slide over the function you wish to initiate. The Honeywell MN10CESWW MN Series also doubles as a dehumidifier, removing excess moisture from the air. Who needs a bucket for water collection when an auto-evaporation system is in operation? Probably the best news yet, it sells for only £340!
Image taken from – www.amazon.co.uk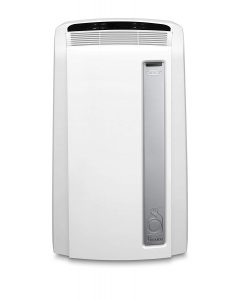 2. De'Longhi PAC AN112 Pinguino Air-to-Air Silent Air Conditioner
Many times, you can attribute excellence to Italy. De'Longhi is an Italian company, and it only strengthens our claim. This air conditioner has more stealth than James Bond of MI6. At just 47 decibels, it boasts as one of the quietest conditioners on the market!
Boasting of a whopping 11,000 BTU, it can cater to a space of 42 square metres. Its blades are remotely controlled. They have a sleep mode, which activates an even lower noise level. Sold at £665, you can be sure you're getting more than enough value for your money!
Image taken from – www.amazon.co.uk
3. Honeywell MN12CES Portable Air Conditioner
We are trying to be as unbiased as possible, but we can't seem to get enough of this sweetness! The Honeywell MN12CES is expensive, take it from us. We all know the seemingly more important things that £720 can afford. Remember what we said about cutting your coat? Nonetheless, coming at such a high price, you can be sure of unparalleled functionality of this PAC.
Do you think the price is high? Wait for the BTU! At 12,000 BTU, this PAC can power a conservatory with large open windows. A-rated, its large port output does not affect its efficiency. It does, however, pitch its decibels to a tad above 52 decibels. On the upside, in such large rooms, you can't easily pick up the noise they make.
They boast of versatility like no other, functioning secondarily as both fans and dehumidifiers. With a remote control, and functions that allow you to program on and off times, they are too easy to use. Let's not forget that they are portable, hence mobile – they have wheels! You can almost expect that whatever good thing any air conditioner has to offer is present in this unit. You won't be wrong! Of course, they run an auto-evaporate system and require no buckets.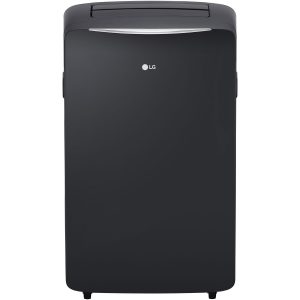 4. LG LP1417GSR 14,000 BTU
No rating on the planet is ever complete without the infamous Life's Good, in the list! Come on, we all know LG make excellent appliances. This PAC boasts of an amazing 14,000 BTU. It is thus capable of supplying coolness to over 500 sq. Ft. Peradventure you don't need full-blown air conditioning, you can switch to the dehumidifier feature, removing as much as 3.1 pints of moisture per hour. It works on an auto-evaporation system, and hence, saves you the need of emptying buckets. It could be too loud for your bedroom – you shouldn't even have such monstrosity in your bedroom in the first place!
Of course, it's more expensive than most. You don't see an LG 14000 BTU AC every time. Surprisingly, she's not nearly as expensive as the Honeywell MN12CES.
Image taken from – www.amazon.co.uk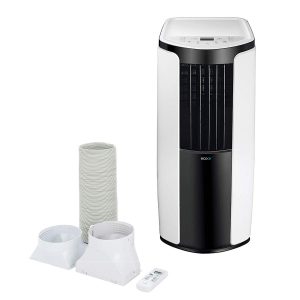 5. EcoAir GELO Wi-Fi Portable Air Conditioning
And to the last, but not the least! Do you need something to suit a more personal use? Do you need to save more cost and equally get good value for your money? Do you wish to be able to control your conditioning system from a remote location? This is best for you! At just 9,000 BTU, it is built for 21 square metres smaller rooms. Such relatively low BTU means equally quiet decibels (only 49). Selling a bit over £300, you can immensely save cost. Let's not forget the WiFi feature. It's simply genius!
Image taken from – www.amazon.co.uk
Conclusion
It is essential to realise that structure suits function and vice versa. In essence, the need you have determines what you buy. Ultimately, there is no wrong choice; neither is there any perfect choice. If there's anything, you must ensure that you buy from reputable manufacturers like the ones we have listed above. Remember, it is expedient you cut your coat according to your cloth.
When the sweltering summer arrives, you have no reason to worry if you are armed with any of these. PACs are no luxury. They are needs, and you had better start seeing them that way.
---