Air Conditioning Basildon
Out of all of the recent advancements in modern technology, air conditioning is one of the most valued and ubiquitous. From cooling homes, businesses and gyms to cars and restaurants. Air conditioning has cemented itself in the 21st century as being an absolutely essential mod-con.
For homes and businesses in Basildon, having an effective system for dissipating heat and subsequently cooling rooms is the difference between a sweltering sauna-like environment and a fresh, ambient room where you feel comfortably chilled.
Air conditioners range in models and the type you will need depends on your requirements, the room you're looking to cool and your budget.
Why choose Christy Cooling Services air conditioning Basildon
Christy Cooling Services have been supplying our customers in Basildon and the surrounding areas of Essex with premium air conditioning solutions for over 30 years. Every air conditioning installation completed by CCS is carried out by one of our highly trained, professional installers who have vast experience and an encyclopaedic knowledge of every air con system we supply.
We offer the full range of air conditioning services for domestic and commercial clients alike. From design and installing new systems, to air con repair, maintenance and servicing CCS can get you started with a new air conditioning unit and then keep it running efficiently for many years.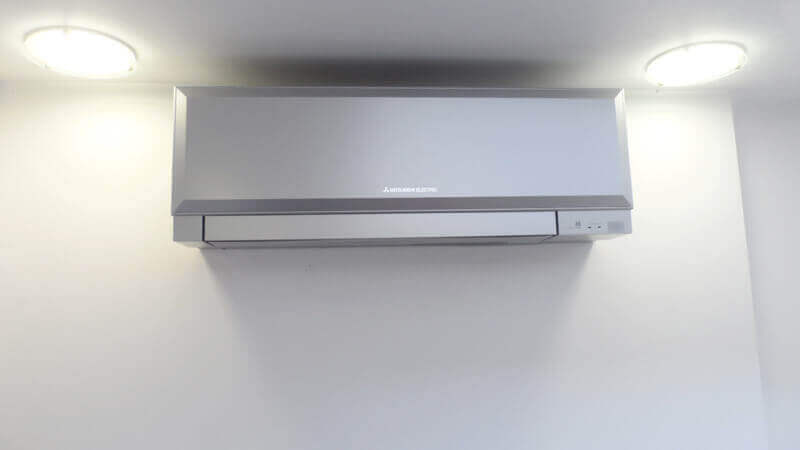 Air conditioning services and installation Basildon
Our air conditioning installations are designed and built according to our clients precise needs and specifications.
Whether you're looking for something that both cools and heats a room, a system that is discreet and tucked away or a VRF system that economically pumps heat from one room and transfers it to another we have a solution for you.
Read on to find out more about our full range of air conditioning systems, which may help you make a decision on which one you would like us to install for you.
If you're still unsure or would like to know more, feel free to contact our team who will only be more than happy to help.
Wall mounted air con installation Basildon
Wall mounted systems are used just as much in domestic applications as they are in business. Due to their low-noise output, sleek design and easy installation they are a good choice to place above a door in a smaller office or work environment.
They can heat as well as cool, which gives them year-round usability and makes them an energy-efficient alternative to a separate heating unit.
Every wall mounted unit supplied and fitted by CCS comes with a fully-charged refigerant as well as some filters, allowing you to remove the build up of dust particles and carry out a degree of self-maintenance on your air conditioning.
Ceiling mounted air con installation Basildon
Commercial premises often go for the ceiling mounted air conditioning option due to its high performance. We have previously fitted them in offices, hotels, leisure centres, retail spaces and more.
They are high-performing units which can be subtly integrated into false-ceilings and utilise existing space, rather than taking up more.
Multi split air con installation Basildon
Multi split air con units are without doubt one of the top options for large businesses. They're able to heat and also reduce the temperature too. They're economical because you can control each unit independently, meaning you can change the temperature of the space you are using whilst the rest of the system is shut off.
Ducted air con installation Basildon
A ducted air conditioner is one of the few models that can incorporate variable refigerant flow or VRF. Using a three pipe system, special pumps move warmth from a room that needs to be cooled into a room that needs to be heated up. Because you're using existing heat, VRF ducted air con is one of the most energy-efficient options.
Like the ceiling mounted variety, the equipment can also be hidden away in a false ceiling for a more visually appealing solution.
Air conditioning system recharge/service Basildon
Recharging or regassing your air con is an essential part of air conditioning maintenance and keeping the refrigeration well serviced means your equipment will continue to work efficiently reducing humidity in both commercial and residential settings.
Our team can carry out a thorough service to maintain the effectiveness of your air con, and perform all manner of air conditioning repairs. We replace anything that is preventing your system from delivering the climate control you desire and clean the pipes so that they are free from debris and a build up of dust particles.
Book in for an air conditioning service
Air conditioning units will always benefit from a service and we always recommend getting them seen to at least annually. This keeps the pumps running as they should and saves you costly repairs further down the line.
Your local air conditioning company in Basildon
Christy Cooling Services offer our domestic and commercial customers in Essex the very best in air conditioning. We have an industry-leading team available to hire who are committed to customer satisfaction at every level and on every single job.
All of our engineers hold City and Guilds 2079 F Gas qualifications and our company has Refcom F Gas certification for refrigerant handling.
We're also accredited by Safe Contractor, CHAS, Constructionline and we have ISO 9001:2008 quality assurance validation.
All of these accolades serve to reassure you that your air conditioning installation or repairs work will be carried out by engineers working to the highest possible standard.
Contact us today for a free quote from Christy Cooling Services.

Air Conditioning Services in Essex
Christy Cooling Services provides air conditioning and refrigeration services throughout Essex. Some of our services include;
Air Conditioning Repair, Ceiling Mounted Air Conditioning, Ducted Air Conditioning Systems, Refrigerations Systems, Multi-Split Air Conditioning & Wall Mounted Air Conditioning.
Our general air conditioning services are also available in local areas of Essex, these include but are not limited to;
Basildon, Benfleet, Bishops Stortford, Braintree, Brentwood, Castle Point, Colchester, Hadleigh, Harlow, Leigh, Maldon, Rayleigh, Rochford, Romford, Saffron Walden, Shoeburyness, Southend, Thurrock & Wickford.