Air conditioning Saffron Walden
Rudimentary air conditioning or AC can be dated back to ancient Egyptian times where passive air conditioning techniques were used to keep interiors cool in the oppressive heat and maintain a manageable temperature. These days, a modern air con system gives users more control and allows for a far more efficient system and can dissipate heat and humidity, replacing it with a more consistent and comfortable inside temperature.
For buildings that are prone to unusually high heat gain or poor heat dispersion, a simple ventilation solution may not be enough and this is when you'll need to employ a more powerful and reliable system like air conditioning. Similarly, you may require the temperature of a specific room to be moderated or kept consistent, such as server rooms or areas where perishable foodstuffs are stored.
Why choose Christy Cooling Services air conditioning Saffron Walden?
Christy Cooling Services provides premium air conditioning installations and air conditioning maintenance in Saffron Walden. With a 30-year trading history and roster of high-profile past customers, our experience and expertise in the field of air conditioning is respected and unmatched. Every aspect of air conditioning work is undertaken by Christy Cooling Services; we not only carry out domestic installations but also repairs, maintenance, servicing and commercial installations.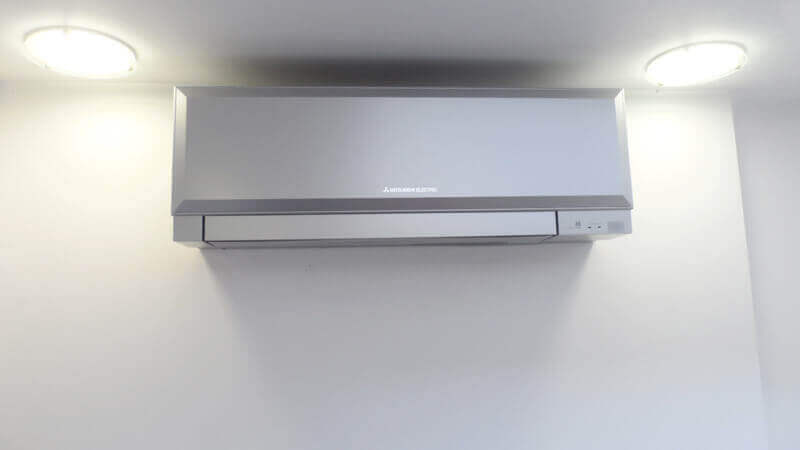 Air conditioning installation Saffron Walden
We design, build and install the full range of air conditioning systems so any need you have can be met and the air quality of your building can be improved straight away. Read on to identify the best match for your requirements.
Wall mounted air conditioner installation Saffron Walden
This option can also give you the choice of heating a room as well as cooling it down. Discreet, and low-noise this is a popular option of air conditioning due to its adaptability and easy installation. Our wall mounted air con units come supplied with a fully-charged refrigerant and filters that are washable to reduce your maintenance costs.
Ceiling mounted air conditioner installation Saffron Walden
A ceiling mounted option is a common preference for commercial premises making it the perfect choice for offices, retail spaces, hotels and leisure centres to name but a few.
Their appeal to the commercial sector is based largely on their effectiveness, utilisation of existing space and integrated design - all of the main ventilation components are neatly tucked away in your building's false ceiling.
Multi split air conditioner installation Saffron Walden
These air cons are by far some of the most advanced available on the market today. They're the top option for large business premises. Also able to cool and heat, these conditioners are economical, remove the need for large and unsightly external equipment and you can control each unit independently.
Ducted air conditioner installation Saffron Walden
The beauty of the ducted air conditioner is in the way it can be concealed in a false or suspended ceiling, whilst still giving the same impressive performance as other models. As a ducted air conditioner can also make use of a variable refrigerant flow (VRV/VRF) three piping system, which can transfer heat from a room that needs to be cooled into a room that needs to be warmed, it also makes it one of the most economical choices.
Air conditioning system recharge/re gas Saffron Walden
Modern air conditioning technology is achievable by the unified efforts of three core mechanical components: the compressor, the condenser coil and the evaporator coil. However, although this is the system that handles the actual running of the machine, the cool air we enjoy from air conditioning units would not be possible without a chemical known as refrigerant. This substance is circulated through the system, absorbing then removing the heat. All of these key elements working together create a process where the refrigerant is quickly converted from gas to liquid and then back again.
Knowing the function of the refrigerant in your air conditioning system will enable you to appreciate the need for an air con recharge or re gas, to guarantee optimum performance and to ensure the cold air stays cold.
Christy Cooling Services regularly recharge air conditioning units and can provide you with a free quote when you get in touch today.
Your local air conditioning company in Saffron Walden
Christy Cooling Services offer an exceptional level of quality across all of the ventilation services, underpinned by the knowledge and qualifications of our team.
All of our engineers hold City and Guilds 2079 F Gas qualifications and our company has Refcom F Gas certification for refrigerant handling.
We're also accredited by Safe Contractor, CHAS, Constructionline and we have ISO 9001:2008 quality assurance validation.
All of these accolades serve to reassure you that your air conditioning installation or repair work will be carried out by engineers working to the highest possible standard.
Get in touch today for a free quote from Christy Cooling Services.

Air Conditioning Services in Essex
Christy Cooling Services provides air conditioning and refrigeration services throughout Essex. Some of our services include;
Air Conditioning Repair, Ceiling Mounted Air Conditioning, Ducted Air Conditioning Systems, Refrigerations Systems, Multi-Split Air Conditioning & Wall Mounted Air Conditioning.
Our general air conditioning services are also available in local areas of Essex, these include but are not limited to;
Basildon, Benfleet, Bishops Stortford, Braintree, Brentwood, Castle Point, Colchester, Hadleigh, Harlow, Leigh, Maldon, Rayleigh, Rochford, Romford, Saffron Walden, Shoeburyness, Southend, Thurrock & Wickford.